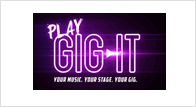 PLAY GIG-IT and Crunch Digital Announce Agreement to Provide Rights Management and Royalty Reporting
Los Angeles, September 18, 2013: Crunch Digital, the data management and royalty reporting service, will be providing rights management and royalty processing support for PLAY GIG-IT, the 3D concert game created for Facebook that brings together social media, music, fashion and gaming.
PLAY GIG-IT allows players to create fully customizable 3D concerts and share them with friends. The customization includes choosing the concert venue, music, sponsors, opening acts, wardrobes, stage lighting and backup dancers. More than 60 artists have partnered with PLAY GIG-IT to become selectable players in the game, including Lil Wayne, Ne-Yo, Nas, 2 Chainz, Brandy, Flo Rida, Miguel, Rick Ross, Talib Kweli and Sean Kingston.
"Crunch Digital is filling a strong need for game and app developers like PLAY GIG-IT to manage their content relationships that have specialized licenses and payment terms," said Keith Bernstein, founder of Crunch Digital. "Artists, writers, record labels and music publishers can all tap into new revenue models – PLAY GIG-IT epitomizes these new brands of entertainment."
"Crunch Digital understood precisely what PLAY GIG-IT needed to manage and report to our content partners," said Gabrielle Peluso, President of 212 Decibels, parent company to PLAY GIG-IT. "We're providing a great way for artists to generate new revenue while connecting with their fans around the world; Crunch Digital will help us accomplish that goal."
About PLAY GIG-IT
http://playgigit.com/
PLAY GIG-IT is a virtual 3D concert game for Facebook that brings together social media, music, fashion, and gaming. Under the parent company of 212 Decibels, PLAY GIG-IT's unique platform allows Facebook members to interact with their favorite musicians and brands in new ways. Players create a fully customizable concert with music either uploaded from a personal playlist or purchased directly through the game, which they then post, share, and invite friends and fans to become spectators of. PLAY GIG-IT allows individuals to showcase their inner artist by sharing their concert creation with the social world.
About Crunch Digital
http://crunchdigital.com
Crunch Digital™ is an independent technology firm whose mission is to eliminate the barriers of licensing and payments in the media & entertainment space, fueling better revenue flow, improved business intelligence, and reduced operating costs. Crunch Digital manages data flow for content licensees – game companies, app developers, digital service providers, multi-channel networks and mobile carriers – including royalty reporting for direct licenses. Crunch Digital also services content owners – such as record labels, music publishers, audio book publishers, film & television studios and game publishers – by managing the flow of data to and from digital services.