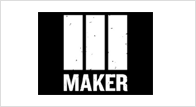 Los Angeles, CA, July 10, 2013: Crunch Digital, a data management and royalty reporting service, announced today an agreement with Maker Studios, the world's largest multi-channel network of online video content. Crunch will now provide comprehensive rights management support to Maker and its music programming.
In February, Maker reached an agreement with Universal Music Publishing Group (UMPG) that allows the brand to monetize cover songs using UMPG's repertoire. Maker has now chosen Crunch Digital to manage the exchange of available songs between music publishers and the royalty reporting for their usage by Maker artists.
"Crunch Digital provides a data and reporting workflow that serves the needs of content creators, digital services and copyright owners," said Keith Bernstein, founder of Crunch Digital. "Maker's agreements with publishers gives them access to more licensed songs to create original content, and our role is to simplify data exchange and royalty reporting for Maker and the publishers."
"Crunch Digital offers a number of services that are of great value to Maker's music programming and talent," said Courtney Holt, COO of Maker Studios. "We are excited to work with Crunch to help streamline our work with music publishers."
About Maker Studios
makerstudios.com
Maker Studios is a next-generation talent first media company and the world's largest multi-channel network of online video content. Maker is home to many of online video's top digital stars and content including KassemG, Nice Peter and EpicLLOYD's "Epic Rap Battles of History," the Shaytards, The Yogscast, The Gregory Brothers, Snoop Dogg's WestFestTV, Bad Lip Reading, and Mike Tompkins, among many others. Maker attracts 3.4 billion+ views online per month with over 250 million+ subscribers, and is the only network to offer partners development, production, promotion, distribution, sales, and marketing services.
About Crunch Digital
Crunch Digital™ is an independent technology firm whose mission is to eliminate the barriers of licensing and payments in the media & entertainment marketplace, fueling better revenue flow, improving business intelligence, and reducing operating costs. Crunch Digital manages data flow for content licensees – digital service providers, multi-channel networks, game companies, app developers and mobile carriers – including royalty reporting for direct licenses. Crunch Digital also services content owners – including record labels, music publishers, audio book publishers, film & television studios and game publishers.