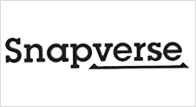 CRUNCH DIGITAL TO MANAGE ROYALTY REPORTING TO RECORD LABELS AND MUSIC PUBLISHERS
LOS ANGELES, CA, August 21, 2013 — Crunch Digital, the data management and reporting service that bridges digital rights owners with content licensees, announced today an agreement with Snapverse, a new social communication app that lets members create videos and share them with friends.
With Snapverse, users can combine music, video and photos together to create 20-second communications called "snaps". Snapverse provides a deep catalog of music and tracks to use legally, including artists such as Pearl Jam, Sarah Bareilles, Dumpstaphunk, , Matt and Kim, We The Kings, Train and Willie Nelson. Snapverse "snaps" can be shared via Twitter, Facebook, or email.
"We're delighted to partner with Crunch Digital," says Scot McCracken, Founder and CEO of Snapverse. "The team at Crunch Digital will be instrumental in fulfilling our music reporting requirements with record labels and music publishers. Our partnership with Crunch Digital also allows us to fairly compensate artists for the use of their music."
"Snapverse represents one of the new ways that music is being used in the marketplace," shares Keith Bernstein, Founder of Crunch Digital. "Working with Snapverse further extends Crunch Digital's song data management services into the growing apps and games market."
About Snapverse
thesnapverse.com
Snapverse, a social communication app that lets members create 20 second videos and share them with their friends — with the ability to overlay music from a wide array of popular artists — launched July 1, 2013. Snapverse has a rich catalog of tracks and adds music each week.. Snapverse is available in the iTunes app store and is free.
About Crunch Digital
crunchdigital.com
Crunch Digital™ is an independent technology firm whose mission is to eliminate the barriers of licensing and payments in the media & entertainment marketplace, fueling better revenue flow, improving business intelligence, and reducing operating costs. Crunch Digital manages data flow for content licensees – digital service providers, multi-channel networks, game companies, app developers and mobile carriers – including royalty reporting for direct licenses. Crunch Digital also services content owners – including record labels, music publishers, audio book publishers, film & television studios and game publishers.